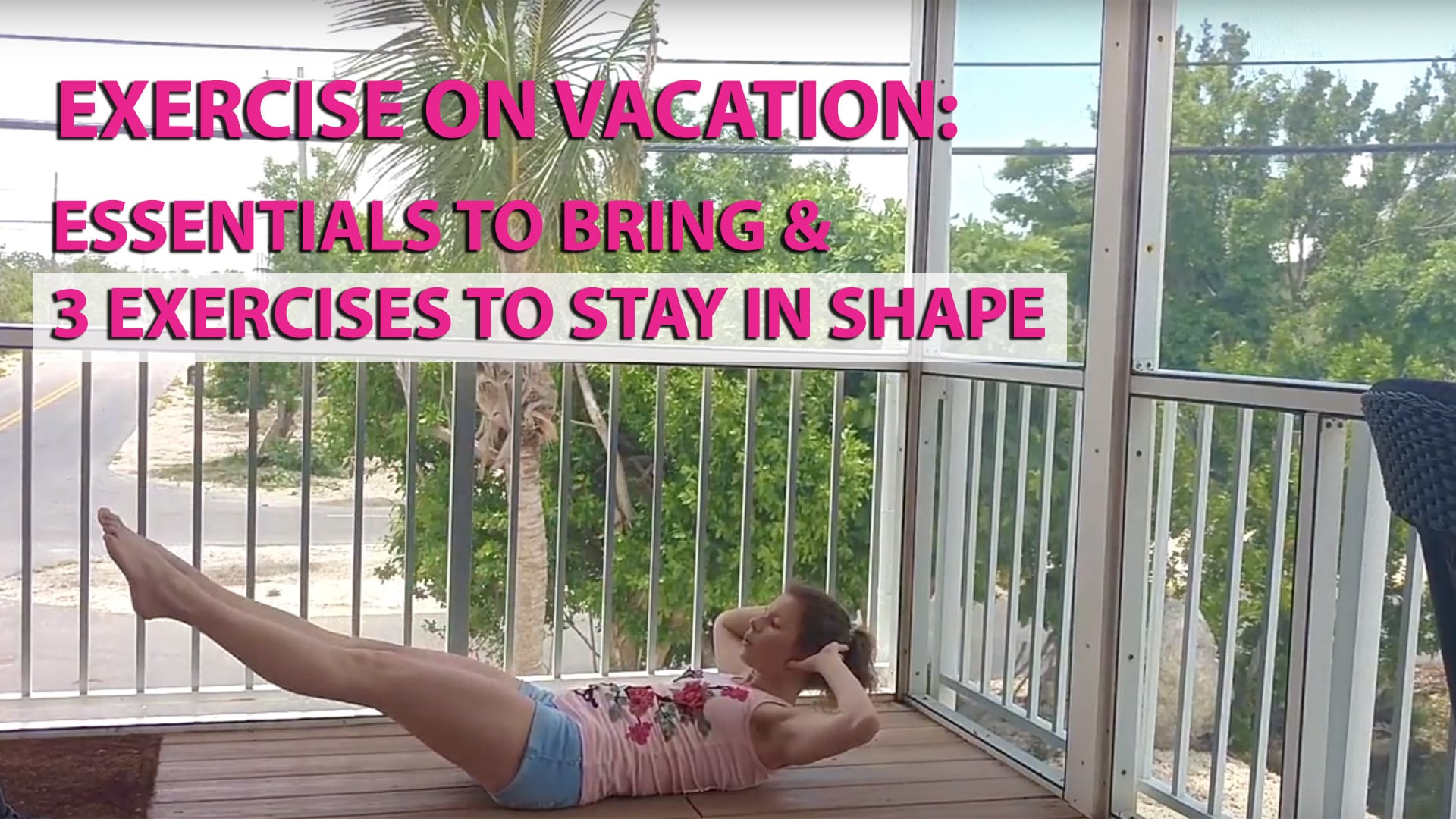 Can you keep up your exercise routine when you are on vacation? Should you pack any exercise essentials on vacation with you?
Honestly, when you are going on vacation the last thing that you want to think about is planning workouts. But if you've worked really hard to establish healthy exercise habits and get toned muscles you don't want to lose all the progress. This progress is literally marked by your sweat and blood (well, maybe not blood so much but definitely some pain!)
If you are going on vacation for a couple of days it's not a big deal of course. Just take the time off and enjoy relaxing and unplugging. Take this time to forget about responsibilities and routines.
My husband and I agree that the best part about any vacation is:
getting out of a routine.
Going with the flow.
Taking it minute by minute or hour by hour.
Forgetting about responsibilities (well, maybe not so much because if you are a parent and take your kids on vacation with you. We usually go on vacation with 4 young kids so these "responsibilities" travel with us.)
What do you love about vacation?
But let's say that your vacation is longer than just a weekend getaway. What should you do with your exercise routine then?
This year my family did something we have never done before. We went on vacation for 4 weeks! You are probably thinking "Whoa, how could you even do that?"
No, we are not millionaires.
Since my husband and I work in web development we were able to work remote for several weeks while still enjoying all the fun vacation activities in Florida Keys. But we were still faced with a dilemma of what we should do for exercise.
In fact just a couple of weeks before my vacation I had several of my clients at a Pilates studio ask me "What would you do for exercise on vacation? We know that you will not sit still!" Let me tell you in this video exactly what I bring on vacation with me and what 3 moves I do to stay in shape even if I don't have time to exercise.
Exercise Essentials to Bring on Vacation
sFera Massage balls are my life saviors to loosen up and release any pain from many hours of sitting. We had to drive for 15 hours to get to the Keys. After the drive my back was hurting, my hips were throbbing and I was feeling stiff as a rock. The massage balls helped me release all this tension and get my body back in order. Make sure to check the blog soon for a video of the exact workout that I did to relieve tight back and hips after traveling.
Running shoes – my favorite pair right now are Puma Ignite (Amazon aff link.) Most likely you already pack a pair of comfortable sneakers when traveling so you don't have to plan anything extra. Go hiking, walking or running. Explore the area where you are staying while still getting some well-needed cardio. During my vacation I found a perfect running route that was right under 5 miles. It took me across the bridge with the salty ocean breeze cooling me down and to the next little island (key) that was just a few miles long. Most of the key was a Nature preserve so I was able to see key deer on my run, raccoons and beautiful birds. It was easy for me to look forward to my run in such a beautiful setting.
sFera Stretching Strap – it's a new addition to the sFera family of exercise tools. The strap will help you become more flexible, strengthen the core and improve range of motion in joints. It is available for preorder now but more details to come in the next couple of weeks.
Don't miss the next several videos that will feature the exact workouts that I did on my vacation! The best way to make sure that you don't miss any of these videos is to subscribe for the newsletter.
[mailerlite_form form_id=1]