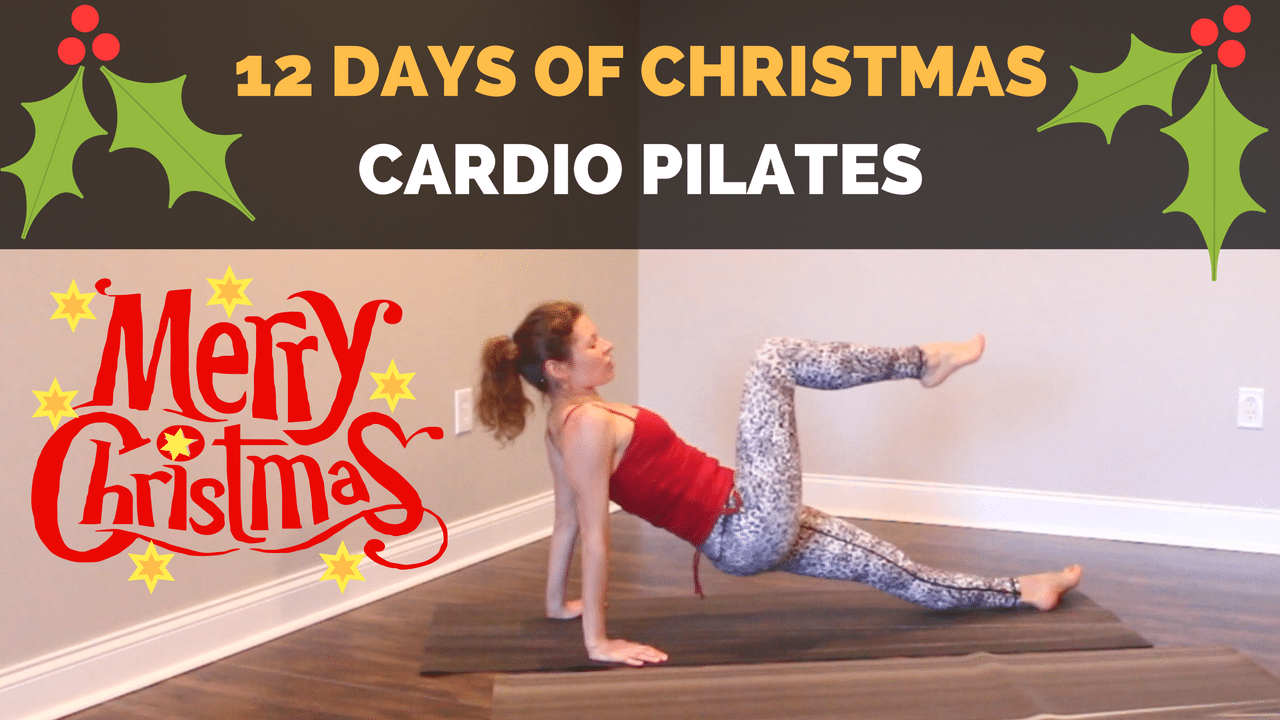 This is not your ordinary Pilates workout. Get ready to have some fun with this 12 Days of Christmas Cardio Pilates workout. It features classical Pilates exercises in a modern flow with heart-pumping cardio blasts.
This workout will help you strengthen your core, work your upper body and tone your legs all in under 40 min. You will work every muscle in your body while also perfecting your technique of each movement. It's a perfect workout for the days when you do not have a lot of time but would like to get a full body workout that will leave you feeling energized and refreshed.
But before you get started with the workout take a few seconds to read the story behind it.
The Christmas story and the full exercise breakdown
On the North Pole the Elves are jumping with with joy (Elf Jumps x 12)
"Santa, Santa, it's almost time for Christmas!"
Santa is loading his Sleigh (Pilates Pushup x 1) with presents. The deer are warming up with Deer Prances (Front Support x2) merrily, they are ready to go.
At the same time in a small house the parents are wrapping up the last gifts (Gift Wrappers – Mermaid x3.) The star is shinning brightly (Star Tree Topper – Star x4) on a beautiful Christmas tree. But the parents are sad, they were not able to find the gifts that their children really wanted – the Pokemon ball and the Hatchimal with purple dots. All of the stores were sold out even though they tried to get there at 6 am to be the first ones in line when the store opened.
Back at the North Pole, the Elves – Santa's Sidekicks (Kneeling Sidekicks x5) are starting the Christmas Parade. Behind them the Nutcrackers are Marching (Back Support x6) leading the way for Santa's Sleigh.
It's time. It's time to fly.
Santa takes off in his sleigh around the world to deliver presents all over the world (Santa's Flight – Hip Circles x7.) It's going to be a long night for him!
Finally Santa lands on the roof of a small house. He slides down the chimney (Down the Chimney – Roll Down or Neck Pull x8), but it does take him a while to push through the chimney (Mrs. Santa was telling him to do more Pilates to strengthen his core and lose some of that cookie weight!) Finally he is in!
It's quiet in the house. Everybody is asleep. Santa opens his big sack and pulls out the Christmas Toys: the Hatchimal Egg that keeps trying to roll over, the rolling Pokemon Ball, the Rocking Horse and even the Boomerang (who wished for that one?) (pick one: Roll Over, Rolling Like a Ball, Open Leg Rocker or Boomerang x9.)
But where are cookies and milk for Santa?
Santa discovers a note near the Christmas tree.
"Santa, our Mom makes us eat only gluten free and dairy free products. We tried to bake you some GF cookies but they came out terrible, we were afraid they will upset your stomach. So here are some Candy Canes (Single Leg Bridge x10) instead. We hope you don't mind. These are organic and sugar free so they will not give you cavities.
xoxo,
Children."
Santa smiled and quietly left the house. He still had a lot of work to do.
In the morning the kids woke up first and ran to the Christmas tree. Oh, how excited they are! They got the exact things that they asked for (and a very random Boomerang, did Santa mix up his lists?) The children are Unwrapping their Presents (Double Leg Stretch x11.) Finally all of the gifts are open, wrapping paper and bows are everywhere. I guess you can say that children are Swimming in Presents (Swimming x12.) It's their best Christmas yet!