Description
Our custom-made Foot Loops are designed according to the classical Pilates Single Loop dimensions and are compatible with most apparatus manufacturers including Gratz, Pilates Designs, Peak, Stott and Balanced Body.
Pilates Foot Loops (Single Loops) for Reformer, Tower and Cadillac use.
Durable cotton webbing construction with metal D-Ring.
9″ Pilates loops to be used for arm and leg springs as well as with Reformer Straps.
Manufactured in the USA.
Please contact us to inquire about custom color options.
Foot Loops are produced by Kathy Brunelle, classical Pilates teacher and studio owner.
About the Artisan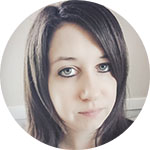 Kathy has been in the Classical Pilates world for the past 10 years. In 2014, she completed her 600 hour certification through Power Pilates. Having a passion for sewing and accessorizing, she wanted to give her clients fun options to help keep their sessions as clean as can be. She's the owner of Personal Pilates of Buffalo.